Let's start off Wednesday with a giveaway announcement! :)
Do you know about
Shelf Reliance
and the amazing products they have? One of their products is the
consolidator series
of organizing....it will fit inside your cupboards and hold 2-3 x the amount of cans for you in the space you are currently using. Awesome!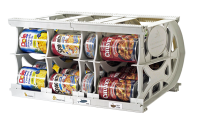 Yes, they are expensive....HOWEVER.....
Vanilla Joy
is having a giveaway on her blog for this consolidator!!! Go to her blog and enter for a chance to win....3 winners will be announced next week! Yay!